Hello and welcome to my stop on the Let's Get Aquainted Blog Hop organised by Beth of Plum and June.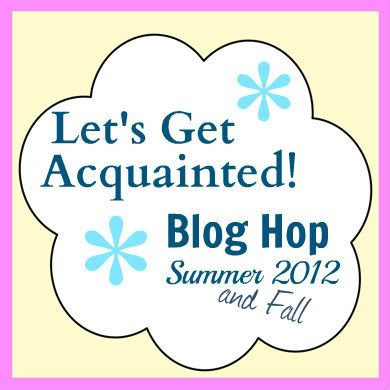 About me
I'm Sarah and I'm a 38 year old scot now living in Cambridgeshire in the UK where I work part-time as a forensic scientist. I'm married to the lovely J who puts up with being asked countless questions about quilt layouts and colour choices without looking completely bored! Between us we wrangle the wee chap (4) and the little lady (2).
I was lucky enough to be taught to sew by my mum, a very talented seamstress and for years cross-stitch was one of my major hobbies, although after the wee chap arrived it kind of fell by the wayside
The little lady is one of the reasons I started quilting. 18 months ago, around the time she turned one I was going through a bit of a low patch. She is lovely but was a poor sleeper from day one and by day 365 things hadn't improved much! I was very busy at work, had two very active kids and felt like I was losing myself a bit (I've always been a pretty positive person but prolonged sleep deprivation is a killer!).
So I was looking for a hobby that was flexible and could be fitted around the kids and would be relatively quick (compared with cross stitch) so I bought a copy of Issue 2 of Making magazine in the hope that something would spark my interest. As luck would have it they had a feature on quilting - it was soooo different from the brown and pink log cabin that I'd made in my secondary school years.
I bought some fabric and made the quilt pattern featured within a fortnight and although it wasn't perfect I was thrilled by how much like a 'real' quilt it was! That was it - it has helped my stress levels and given me an outlet that I never imagined.
Okay, that was a bit of an outpouring! Here are a few of the things I've made in the last 18 months:
Questions
How long have you been quilting?
18 months
Favourite quilting tips
: an accurate 1/4 in seam really will make life easier (as I learned the hard way!). I also love a quote I read somewhere - 'Better finished than perfect'. I'm not suggesting that we should be slapdash as I strive to improve with every project but I think that a slightly imperfect quilt that can be used and loved is better than one that is never finished in the hopes of reaching perfection. Also I'm nowhere near perfect so why should I expect my quilts to be any different!
Favourite blogging tips
: try not to compare your blog with other people's blogs (tricky sometimes) and remember it is meant to be fun not a chore!
Favourite fabric
: Summersville - I bought a complete fat quarter bundle and am seriously considering buying several metres of my favourites.
Favourite craft book
: Practical Guide to Patchwork by Elizabeth Hartman and Fat Quarterly Shape Workshop for Quilters.
Favourite book
: how can you choose just one! I love to read - fantasy, crime, biography and popular science are my favourite genres and Terry Pratchett is probably my favourite author.
Favourite children's book
: The BFG by Roald Dahl. We have just started reading 'chapter books' (as opposed to picture books) with the wee chap at bedtime and he loved The Magic Finger so looking forward to reading him The BFG.
Favourite quilting tool
: rotary cutter & mat
Favourite music to sew to
: I usually listen to audiobooks or BBC Radio 4 (news & documentaries)
Binding - by machine or by hand
: Definitely by machine. I don't have the patience to hand sew binding, I'd rather use that time to sew something new.
Right I think we have got to know each other a little bit so on to the main event..........
Tutorial - Wonky cross baby quilt
I made this wonky cross baby quilt for some dear friends of ours who are expecting their first baby any moment. They are having a little boy and their nursery is yellow and orange - I wanted something that would work with that and Monsterz by Cloud9 was perfect and incredibly cute without being too babyish.
I think these ones having a picnic of socks are my favourites:
I used Elizabeth Hartman's tutorial from Sew Mama Sew -
here
. I don't intend to repeat the tutorial verbatim but I thought I'd add some hints and tips that might make your life easier if you decide to make a little quilt like mine.
Fabric requirements
:
My quilt is 4x4 blocks and finishes at 32" by 32".
Blocks: 4 x fat quarters and 3/4 yard of contrasting fabric for the crosses (the blocks could also be made with layer cake pieces - choose 16 pieces for the main blocks and 8 pieces for the contrast strips)
Backing: 1 yard
Batting: I like to have a couple of inches all round so 36" by 36" was how I cut mine.
Binding: 1/3 yard (I had just enough left over from my backing and fat quarters to bind the quilt but that may be because I bought a metre of backing which is slightly more than a yard).
Method
All seams are scant 1/4".
Fat quarters: Cut 16 x 8.5" square blocks (four from each fat quarter)
Contrast fabric: Cut 32 x strips 10" long and varying from 1.5" to 2.5" wide - I cut equal numbers of each width so that the arms of each cross would be the same width.
Cut each 8.5" square across the middle at an angle and then sew a contrast strip into the cut. Press.
Turn through 90 degrees and make another angled cut across the middle
Sew a second contrast strip into the cut aligning the two halves of the first contrast strip as best you can. Press.
After making a few blocks I decided I liked the thinner crosses so I cut some contrast strips down to 1.25". This does not leave much excess for trimming (see above - it is a 9.5" square ruler) and so if you like the look of narrower crosses I would recommend cutting your original blocks to 9" square (you should still be able to get 4 blocks from each fat quarter).
Trim the block to 8.5" square - once again make sure you leave enough fabric on either side of the arms of the crosses so that you don't lose the cross tips when the blocks are sewn together (as long as you have 1/2" of fabric you will be fine).
This is a block with 1.25" strips - 1.5" or greater gives more leeway for trimming
Once you have finished your blocks sew together into four rows and then join the rows.
Baste, quilt and bind!
I use 505 basting spray which I adore, it is quick and I get far fewer puckers than basting with pins. I have never had any problems with it gumming up the needle or staining the fabric (and that includes one quilt that sat for 4 months between basting and quilting). I know it isn't for everyone but I urge you to give it a try!
I quilted it using a free motion loop design, as I can't stipple without crossing my lines. FMQ is still a work in progress for me. This is the third quilt I've done and I am improving but I still have uneven patches. But I love the look and once washed most hiccups aren't noticeable.
So here it is
The back is the Adventurez panel print, which runs from selvage to selvage. So as not to loose the cute design at either edge I removed a strip from the centre:
And since the baby this is for has yet to arrive I've asked Lottie to stand in as a quilt model :-)
Thanks for stopping by and I hope that you enjoyed your visit and found the tutorial/tips at least vaguely coherent!
Please also stop by and see Debbie at
A Quilter's Table
as she has a fantastic card & notebook holder for you today.
Next up will be Jennifer of
Sewlandia
and Nicole of
Mama Love Quilts
on Tuesday 19th June and if you haven't already seen the lovely projects that Kelly of
Jeliquilts
and Yzo of
Chez Roo
posted this week you should drop by and see them too!
Sarah
Stop press: the recipient of this quilt arrived safely on Thursday evening. He is gorgeous and both he and mum are doing well :-)